OUR #1 PRIORITY IS
PROJECT SAFETY
Safety in all AGI Construction Inc. operations is not just a corporate goal it is a requirement! AGI Construction Inc. is committed to providing all employees with a safe working environment and protecting life, health, the environment and property.
No single facet of AGI's operation is of greater importance. Our goal is accident-free work while providing the high level of quality that has been a trademark of AGI Construction since its founding.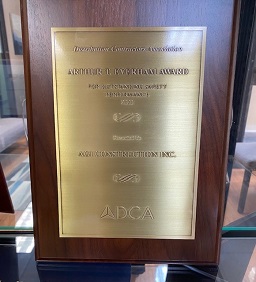 AGI is pleased to announce that it is the 1st place recipient of the Arthur T. Everham Safety Award for 2020!
This award was presented to AGI by the DCA (Distribution Contractors Association). The DCA established the Arthur T. Everham Safety Award in 1986 to recognize contractors with exceptional safety programs. Judging criteria includes: the number of OSHA lost workday cases, number of OSHA restricted duty days, number of first-aid cases, number of fatalities, the presence of a documented safety program, the use of a drug-testing program, and the company's Experience Modification Rate.
What an honor it is for AGI to receive this award for the 136,000-799,000 hour category! This is a highly coveted award with serious competition from major players across the country. Each and every AGI employee played a vital role in AGI achieving this award. It is a true testament to our employees' dedication to the safety of each and every person that works here and to this company. Congratulations to our Safety Department for leading the charge!
AGI PRIDE!




OUR COMPANY
Quick Contact